Alp Toker is a British web browser technologist and CEO at Nuanti Labs. In 1994, he developed one of the earliest browsers and today continues his work on web rendering technology and the foundations of the modern web.
Since 2006 Alp has become one of the first team leads on the WebKit project outside of Apple's own Safari group. His developments on mobile browsing have been incorporated into iPhone, and the porting layer has since formed the underpinning of the Android browser and Google Chrome.
Alp believes in the browser as an agent of change, having worked on projects like WebKit for OLPC to give Internet access to children in developing countries. His company Nuanti is instrumental in HTML5 video, CSS3, ACID3 and web accessibility that lets vision-impaired users "see" the web.
Alp Toker continues to realise his dream at Nuanti where he's heading up development of a new OS for connected TV, game consoles and smart devices built on open web standards.
Speaking Engagements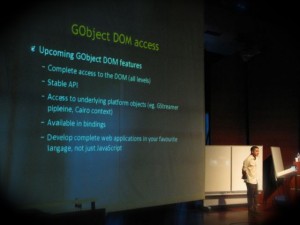 Known for his high energy and passionate presentation style, Alp Toker offers valuable insights into the creative process that drives the innovation and openness of web technology.
Alp has introduced nascent technology to audiences around the world with hard-hitting local context and cutting edge relevance grounded in his day-to-day work in the mobile, smart TV and web browser industries.
His talks are centered around the belief that open standards and public scrutiny are the only true motivation for today's inventors.
Alp's past speaking engagements include:
2013
State of the Browser 2013, London (press coverage: The Guardian)
2012
Smart TV DMIC, London – Web TV I/O: A Transmedia Platform for Connected TVs
WebIT Lightning Track, Istanbul – Selling Real Technology in a Dot Com World
LLVM EU Conference, London – Embrace and Extend: The Story of a C++/CLI Compiler
2009
Google Jam, London – Open Source On a Budget and Why Google is Doing it Wrong
Desktop Summit, Gran Canaria, Spain – WebKit Qt and GTK+ Working Together
2008
GUADEC, Istanbul – Future Visions for the Web Desktop
University of Aveiro, Portugal – Make Your Own Web Browser
FOSDEM, Brussels – The WebKit Open Source Project
2007
OpenBossa Nokia Institute of Technology (INdT), Recife, Brazil – WebKit Everywhere: How We Put a Browser in Your Mobile Phone
GUADEC, Birmingham – Managed D-Bus: IPC for Connected Devices
LinuxConf, Cambridge – The WebKit GTK+ Project
2006
University of Warwick – Applied Continuations and Micro-Threads: How to Build an Intelligent Agent in 24 Hours
2005
InfoSeed Centre, Edinburgh – Introducing the Web Desktop
IMC, Edinburgh – Giving a Voice to Independent Journalism Using Open Source Software
2003
University of Edinburgh – Compilers and Natural Language: Why Programmers Need Linguistics
Contact Details
Alp's speaker sheet and guidance on engagements are available on request by email to info@nuanti.com and he can also be contacted directly.