Acid3 final touches
Recently we've been working to finish off and land the last couple of fixes to get a perfect pixel-for-pixel match against the reference Acid3 rendering in WebKit/GTK+. I believe we're the first project to achieve this on Linux — congratulations to everyone on the team!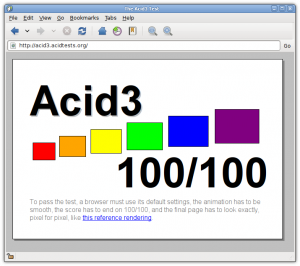 Epiphany using WebKit r32284
We also recently announced our plans to align more closely with the GNOME desktop and mobile platform. To this end we're making a few technology and organisational changes that I hope to discuss in an upcoming post.